 Colorful Dino game requires User Authentication of an itch.io account and a valid Download Key in order to play.

PLEASE NOTE

The Download Key is automatically linked to your account after purchasing the game on itch.io. In that case, no action is required on your part. However, If you have not purchased the game but you have a valid Download Key for the game, please make sure you claimed your Download Key first.

AUTHENTICATION PREREQUISITES
An itch.io account.

Make sure you are logged into the site.

AUTHENTICATION STEPS
As soon as you run the game, Itch User Authentication process begins right after the animation of the Giavapps logo.
The Authorization Page will open automatically.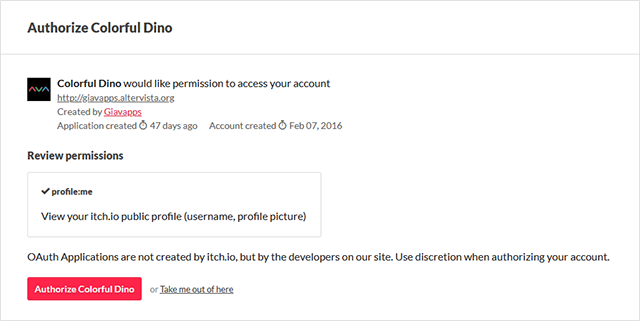 All you have to do is click on the Authorize Colorful Dino button.

PLEASE NOTE

Make sure you are logged into the site otherwise you may not see the Authorization Page.
After authorizing, your User Token will be displayed.


You must copy and paste the displayed User Token in the game and click the OK button to continue.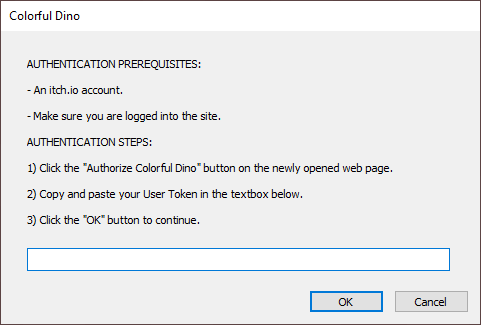 Lastly, the game will verify your Download Key.
PLEASE NOTE

If you have not purchased the game or if you have not claimed your Download Key you will be redirected to the Colorful Dino page.
If everything is successful the game will start automatically.

PLEASE NOTE

The game will save the User Token locally on your computer, so you don't have to repeat these steps all the time.